I see a future where everyone who needs mental health care gets it. We must end the separate and unequal treatment of mental health and addiction, and ensure each of us is able to achieve a full, meaningful life.
"As we say at the Satcher Leadership Institute, 'In order to eliminate disparities in health, we need leaders who first care enough. Then we need leaders who know enough, leaders who have the courage to do enough, and leaders who will persevere until the job is done.' Patrick lives this sentiment each and every day."
Dr. David Satcher
Former U.S. Surgeon General and Founding Director, Satcher Health Leadership Institute
"Throughout his career in both state and federal elected positions and through his work as the founder of the Kennedy Forum, Patrick has used his voice and prominence to fiercely advocate for a more robust and compassionate response to the devastating impact of addiction and mental health disorders. He brings a level of credibility and authenticity of a person with lived experienced that resonates with all those he encounters and has been a true national champion."
Michael P. Botticelli
Executive Director, Grayken Center for Addiction Medicine at Boston Medical Center
"During [Patrick's] time in Congress – and increasingly in the years since that time – he has proven himself to be one of the nation's most passionate and gifted leaders in this space."
Paul Gionfriddo
President and CEO, Mental Health America
Patrick J. Kennedy is one of the world's leading voices on mental health and addiction. He works to unite government leaders, philanthropists, the private sector, and advocates in transforming our health care system to finally treat illness of the brain on par with illnesses of the body. Patrick is available to speak and consult on the following topics: the pursuit of mental health equity; the role of the Federal Parity Law; the need for health care integration; technology's role in mental health care; brain health as an essential part of overall health; combatting the opioid crisis; a roadmap for a better health care system; national and state advocacy work; workplace mental health.
KENNEDY PRIORITIZES INTERNATIONAL EFFORTS TO ADVANCE MENTAL HEALTH EQUITY
From leading a letter to Secretary of State Antony Blinken and USAID Administrator Samantha Power urging them to integrate mental health and substance use supports into U.S. relief efforts for Ukraine to speaking at a side event of the United Nations Office on Drugs and Crime (UNODC)'s 65th session of the Commission on Narcotic Drugs, Patrick J. Kennedy is dedicated to sparking change on a global scale. More here.
Patrick J. Kennedy was featured on Senator Bill Frist's "A Second Opinion" podcast during Mental Health Month 2021 to discuss the U.S. mental health crisis, the status of the Federal Parity Act, needed policy changes, and more.
"A Common Struggle: A Personal Journey Through the Past and Future of Mental Illness and Addiction" details Kennedy's personal struggles, as well as his bold plan for the future of mental health care in America.
PATRICK & AMY KENNEDY ON YOUTH MENTAL HEALTH
Patrick and Amy Kennedy, education director of The Kennedy Forum, recently joined The Chopra Foundation's Never Alone Summit for a segment on youth, teen, and family mental health. Speakers included Deepak Chopra, Russel Brand, Jewel, Diane von Furstenberg, Russel Wilson, and more. Click the image below to view their segment. Visit Amy's website here.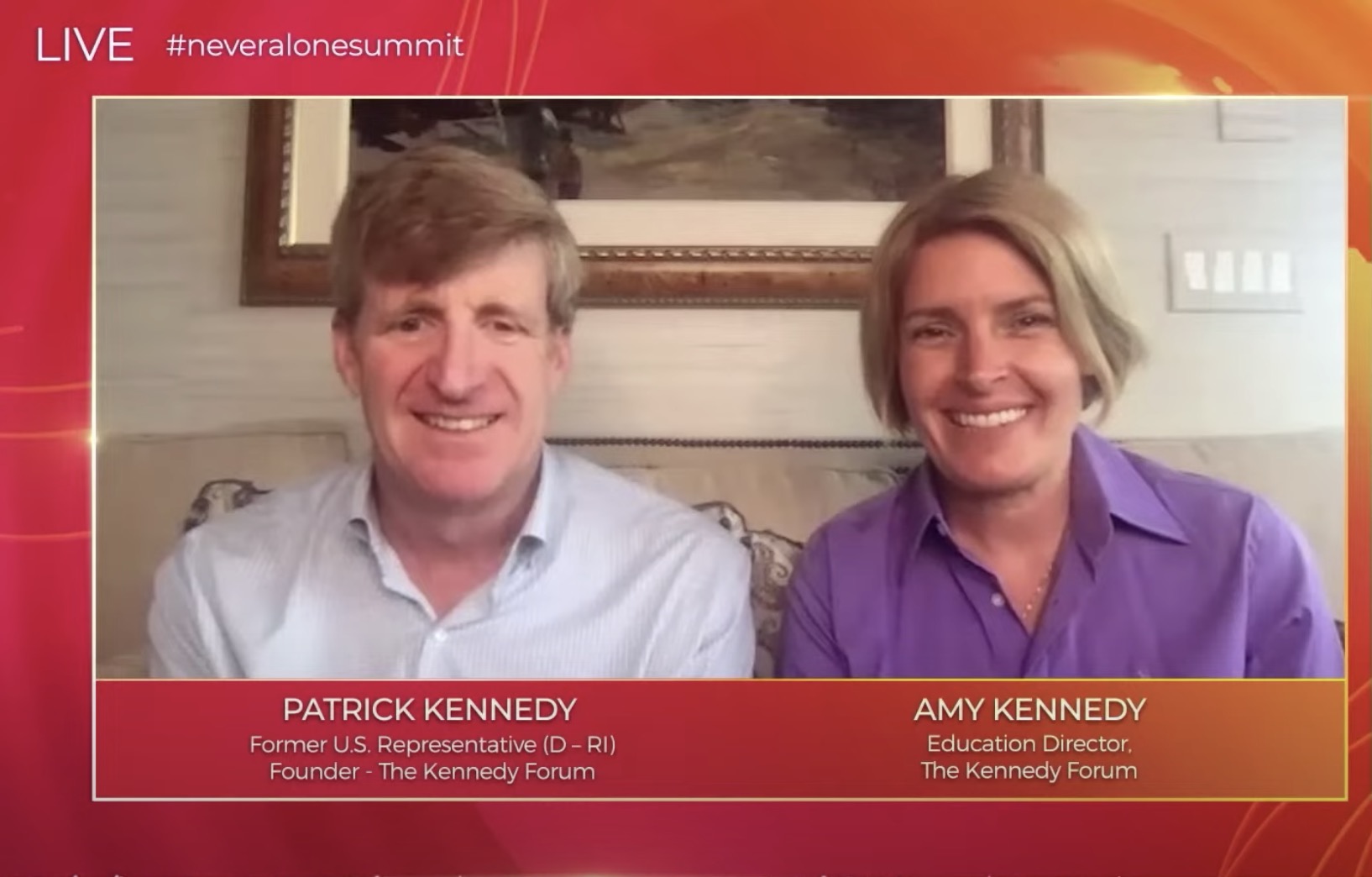 A discussion on the clinical outcomes of marijuana use, especially among teens, featuring Patrick J. Kennedy; Dr. Nora Volkow, director of the National Institute on Drug Abuse (NIDA); and Dr. Kevin Sabet, president and CEO of Smart Approaches to Marijuana (SAM)