By: Sara Goldenberg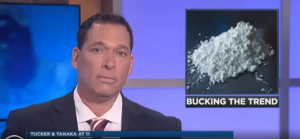 CLEVELAND HEIGHTS, OH (WOIO) – Northeast Ohio continues to struggle with opioid addiction and overdose deaths.
But there's a treatment program in our own backyard that's bucking the trend.
The VA Secretary and White House officials came to Cleveland on Thursday to learn more.
The Northeast Ohio VA Healthcare System has the lowest addiction rates across the VA.
They're creating alternatives to pain management, and officials hope some of what they're doing could become a national model to fight the opioid epidemic.
Governor Chris Christie of New Jersey heads President Trump's opioid commission.
Christie toured the Louis Stokes Cleveland VA Medical Center along with VA Secretary David Shulkin, Kellyanne Conway and former Congressman Patrick Kennedy Thursday morning.
"We didn't come here by accident, we didn't pick you out of a hat. We came here because this facility has the reputation for being a model," Christie said.
"The only way we're going to stop the suffering and death is to change the culture around the way we manage pain in this country. And the model here is extraordinary, both in terms of its breadth and its effectiveness," Christie said.
Only four percent of veterans who receive care at this VA are prescribed opioids.
The VA says that's well below the national average.
The VA healthcare system in Cleveland has reduced opioid prescriptions by nearly 25 percent since 2010.
The VA says other healthcare providers in the area have reduced prescriptions by only 10 percent.
Officials are looking at the best practices used here, focusing on pain treatment alternatives like physical therapy, even acupuncture and yoga.
Patrick Kennedy, the son of Ted Kennedy, is a recovering opioid addict himself.
"We want the same urgency of care that you would provide for any other disease someone could be afflicted with, end of story," Kennedy said.
Kennedy hopes what they're doing here can be used everywhere.
"We can save people. I've been able to get access to continuity of care, I shouldn't be the only one in this country," Kennedy said.
The opioid commission plans to have a final report with recommendations ready for the President on November 1st.
Officials say they need to take more steps before declaring a national emergency to fight the epidemic.
To view this article via the publication's website, click here.