By: Lauren Carroll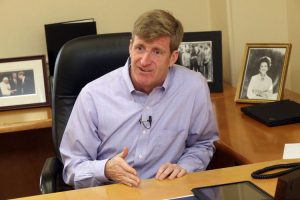 BRIGANTINE — Addressing the current state of addiction treatment and mental health issues, former congressman and Brigantine resident Patrick Kennedy shared stories of his own struggle Sunday as well as steps he continues to take to help others in similar situations.
"The disease of addiction is just that — a disease," Kennedy said, "no different than any other chronic illness. But isn't it something that when it comes to creating support groups for this disease, we have to remain anonymous."
During the public-speaking event at Kennedy's parish of St. Thomas the Apostle Church, Kennedy told the crowd his own story of addiction. After a 14-hour surgery to remove a tumor, Kennedy said he had access to pain medications, including OxyContin, and a number of doctors available to write the prescriptions.
"If I had not had been who I was and did not have the opportunity to be prescribed pain medications as I had been prescribed, believe me, I would have gone to the streets for heroin or fentanyl," Kennedy said.
Kennedy received treatment and was prescribed Suboxone, which he said he no longer takes but is medicated for treatment of mental illnesses, including bipolar disorder, depression and anxiety. His recovery is detailed in his book "A Common Struggle," published in 2015.
While representing Rhode Island's 1st Congressional District, Kennedy sponsored the bipartisan Mental Heath Parity Act in 2008, which required health care plans to provide coverage for mental illness.
"You must treat the diseases of addiction, the diseases of depression, anxiety, mental illness, schizophrenia, bipolar in the same way that you would if it were cancer or heart disease," Kennedy said.
In 2013, the Kennedy Forum was founded as an organization focusing on mental and behavior health awareness and policy. In May, Kennedy was appointed by President Donald Trump to the Commission on Combating Drug Addiction.
Kennedy credited Gov. Chris Christie for his initiatives for mental illness and addition.
Last Tuesday, Christie announced a plan for $200 million in state funding to be used for new and continuing addiction prevention, treatment and recovery programs across the state.
"The crisis is upon us, well upon us," Christie said during his announcement. "We can't focus purely on prevention and wipe our hands clean of those already lost to the carnage of addiction. This is where many of the 25 initiatives come into play."
The Kennedy Forum provided template letters to be sent to the gubernatorial candidates, as well as to the Senate and the House of Representatives. "Politician respond to the squeaky wheel, and unfortunately, we're not squeaking loud enough," Kennedy said.
Kennedy took questions from the audience on topics including how families can support their loved ones struggling with addiction and mental illness.
Members of the National Alliance on Mental Illness Atlantic/Cape chapter also responded to questions and thanked Kennedy for his continued efforts.
More than 35,000 deaths occurred in 2015 related to opioid addiction. Combined with deaths associated from untreated mental illness, Kennedy said the numbers were in the millions.
"When I say we need political will, what I mean is we need to be demanding of our governors, our senators, our congressmen, our elected officials that they treat this in the same way as they treat any other major national emergency," Kennedy said.
To view the article via the publication's website, click here.